As bitcoin's price keeps setting new yearly highs, the question on everyone's mind right now is whether it's different this time. Let's take a closer look at why this rally is nothing like the "bubble" in 2017.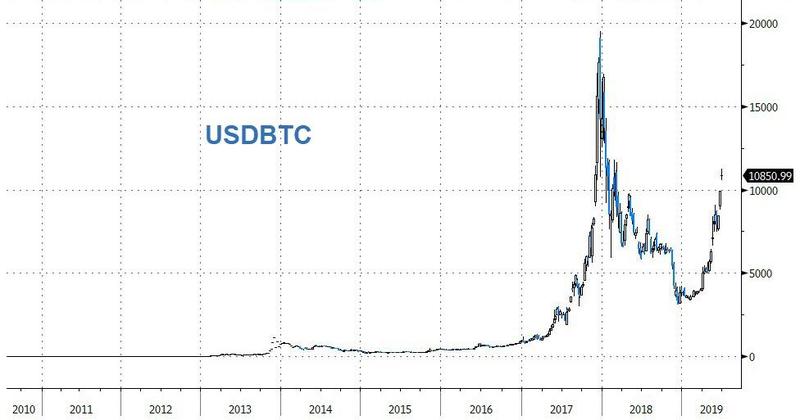 As many experts pointed out, BTC going above the key psychological $10,000 mark is likely to trigger FOMO (i.e., fear of missing out), according to Fundstrat's Tom Lee, who adds that bitcoin can now easily take out its all-time highs.
Other market analysts, such as Tone Vays, however, disagree. He told Cointelegraph:
"I actually don't think it's important at all. The $10,000 benchmark did nothing to slow down price back in 2017. And it looks like it did nothing to slow down the prices here in 2019."
Institutions, not retail, in the driver's seat
Bitcoin broke through into the mainstream in late 2017. At the time, its historic surge to nearly $20,000 was driven mainly by retail investors. This time, however, the public is still largely on the sidelines, according to Google Trends.
In fact, the number of Google searches for "bitcoin" is only around 10% of what they were in 2017. In other words, retail investor FOMO has not even started yet, which may suggest that BTC price could go much higher than last time.
On the other hand, institutional demand for bitcoin has soared. As of June 17, open interest at CME Group saw 5,311 contracts totalling 26,555 BTC, or approximately $246 million — dwarfing the volumes during the 2017 price peak.
"CME Bitcoin futures (BTC) shows growing signs of institutional interest," CME Group tweetedJune 18.
"BTC open interest rose by a record 643 contracts in a single day, establishing a new all-time high of 5,311 contracts on June 17 (26,555 equivalent bitcoin; ~$250M notional)."
Other indicators, such as the GBTC price premium as well as record volume for bitcoin derivatives exchange BitMEX (on a Saturday!), also suggests that "smart money" is pouring in.
Network fundamentals better than ever
As Cointelegraph reported on Friday, hash rate hit a new all-time high at over 65,000,000 TH/s. In other words, Bitcoin is more secure than ever and would require an unfathomable amount of computing power to affect the network.
Continue Reading: zerohedge.com