Summary:
China's Hubei province admits a massive spike in virus cases and deaths (14,840 additional cases and 242 additional deaths)
CDC confirms second case in San Diego
The Sun reports first case confirmed in London, bringing UK total to 9
China Grand Prix cancelled
Couple onboard 'Diamond Princess' tell CNBC situation is "frankly terrifying".
AFP publishes report exposing worsening shortages of food and supplies in Wuhan
Cruise ship rejected by four countries allowed to dock in Cambodia
Rumors of 10k in Wuhan not included in official count of cases
NYT follows WSJ in exploring problems with Chinese testing kits
Global Times says US should restart travel to China
US officials complain about China still denying American help
First ship-to-shore infection occurs in Japan from 'Diamond Princess'
State Department lets non-essential personnel and their families leave Hong Kong because of outbreak
* * *
Update (2050ET): Here comes martial law with Chinese characteristics. Moments ago, Bloomberg reported that China is sending 2,600 medical staff from the military to Wuhan, two weeks after it first deployed 450 "military medical staff" to Wuhan just as the pandemic was starting to spread.
It wasn't quite clear just what "medical staff from military" means, but what is clear is that nearly 3,000 military personnel are going to Wuhan to make sure that there are no more incidents, like someone leaking another deadly pandemic from China's only Level 4 biohazard lab, which just happens to be in Wuhan. That, or someone actually escaping alive from the quarantine zone for 11 million people.
* * *
Update (1950ET): CDC officials confirmed to a local TV station that a second case of the virus has been confirmed in San Diego, bringing the total in the US to 14.
The patient was under quarantine at the same U.S. airbase in San Diego where another repatriated American was previously diagnosed with the disease known as Covid-19. There had been no contact between the two patients, who were on different flights coming out of China and were housed in separate facilities, indicating that the virus hadn't spread between them. That suggests that more cases are highly likely as one case likely didn't infect the other.
* * *
Update (1855ET): Hubei just released its latest round of coronavirus outbreak figures, and in a clear confirmation of the 'conspiracy theory' that China had altered the way it was reporting Covid-19 deaths and cases – clearly in order to suggest that things were improving and you should go back to work, while ideally buying stocks, the province at the epicenter of the Coronavirus pandemic just came clean and the numbers are stunning.
The number of cases exploded by 14,840, resulting in a total of 48,206 cases, including 13,332 clinically diagnose cases: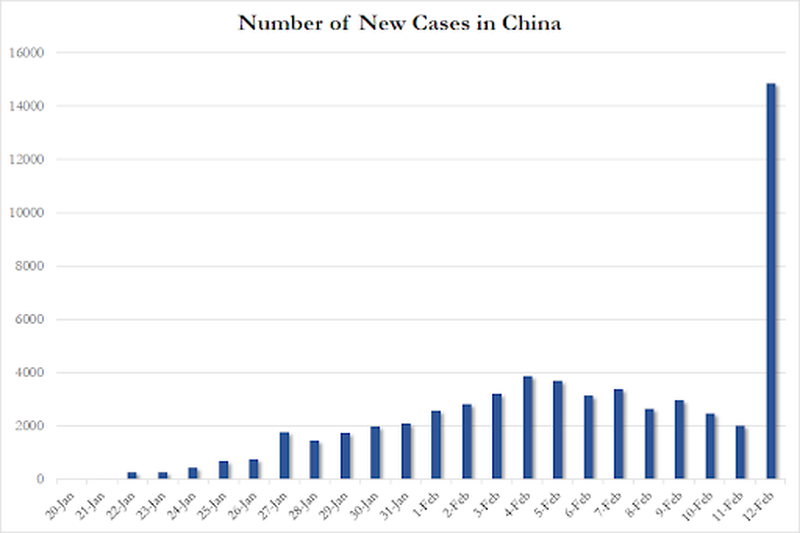 What happened? Recall that on Monday we published "This Is How China Is Rigging The Number Of Coronavirus Infections" in which we explained that China on Feb 7 moved the goalposts by changing the definition of the term "infection" and that "going forward patients who tested positive for the virus but have no symptoms will no longer be regarded as confirmed."
Well, it appears that a few days later, China changed its mind and has reverted to the original definition of "infection" while also including "clinical diagonisis" to determine if a new infection had take place. This is how Hubei explained the change:.
With the deepening of understanding of new coronavirus pneumonia and the accumulation of experience in diagnosis and treatment, in view of the characteristics of the epidemic in Hubei Province, the General Office of the National Health and Health Commission and the Office of the State Administration of Traditional Chinese Medicine issued the "Diagnosis and Treatment Plan for New Coronavirus Infected Pneumonia (Trial (Version) "adds" clinical diagnosis "to the case diagnosis classification in Hubei Province, so that patients can receive standardized treatment according to confirmed cases as early as possible to further improve the success rate of treatment.

According to the plan, Hubei Province has recently conducted investigations on suspected cases and revised the diagnosis results, and newly diagnosed patients were diagnosed according to the new diagnosis classification. In order to be consistent with the classification of case diagnosis issued by other provinces across the country, starting today, Hubei Province will include the number of clinically diagnosed cases into the number of confirmed cases for publication.
Of course, the real reason for the original change as noted above was to give the impression that China was succeeding in containing the infection, which helped boost stocks – both in China and globally – sharply higher, and in the case of the S&P, to new all time highs.
And while China can now claim it wants a more comprehensive definition of "infection" because it is suddenly so concerned about all those people it ordered to go back to work on Monday (with new cases now emerging in people's workplaces forcing an immediate quarantine of all workers and co-workers), it somehow also changed the definition of "death", because at the same time as the explosion in new cases, which clearly indicates that the pandemic is now clearly out of control, the number of reported deaths in Hubei alone spiked by 242 to 1,310 (we are still waiting for the official number of deaths across all of China which will likely add quite a few more cases to the Hubei total).
Continue: Zerohedge.com