After two weeks of sleepless nights protecting Washington DC from an alleged inauguration threat that never materialized, thousands of National Guardsmen were booted from Congressional grounds on Thursday, where they were forced to sleep on marble floors, and have instead been forced to take their rest breaks in nearby parking garages, according to Politico.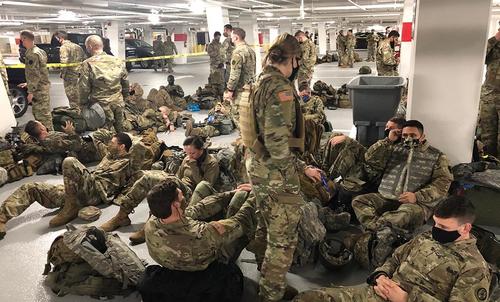 The unexplained move comes after 'dozens' of lawmakers posed for photo ops with the troops.
"Yesterday dozens of senators and congressmen walked down our lines taking photos, shaking our hands and thanking us for our service. Within 24 hours, they had no further use for us and banished us to the corner of a parking garage. We feel incredibly betrayed," said one Guardsman, who said their unit was abruptly kicked out of the Dirksen Senate Office building into a nearby parking garage with no internet reception, one electrical outlet, and a two-stall bathroom for 5,000 troops.
Here's a video from the parking garage where 5,000 members of the National Guard who were guarding the Capitol are being forced to stay. pic.twitter.com/bREUxt1tRi

— Benny (@bennyjohnson) January 22, 2021
All National Guard troops were told to vacate the Capitol and nearby congressional buildings on Thursday, and to set up mobile command centers outside or in nearby hotels, another Guardsman confirmed. They were told to take their rest breaks during their 12-hour shifts outside and in parking garages, the person said.
Prominent lawmakers from both parties took to Twitter to decry the decision and call for answers after POLITICO first reported the news Thursday night. Sen. Chuck Schumer, the Senate Majority Leader, tweeted: "If this is true, it's outrageous. I will get to the bottom of this." –Politico
MILITARY SOURCE IN DC:
"For the last week my battalion has been sleeping on the floor in the Senate cafeteria. Today the Senate kicked us out & moved us to a cold parking garage.
5000 soldiers.
1 power outlet.
One bathroom.
This is how Joe Biden's America treats solders."

PHOTOS pic.twitter.com/622sQmciq4

— Benny (@bennyjohnson) January 22, 2021
In response to the report, several lawmakers have expressed (or feigned) outrage, with several offering the use of their offices to Guardsmen.
This is absolutely unacceptable and despicable treatment of our brave and dedicated National Guard who answered the call to serve.

We need to demand answers now and this needs to be fixed immediately. https://t.co/FyNUpFYJyX

— Elise Stefanik (@EliseStefanik) January 22, 2021
Continue: Zerohedge.com