Authored by Matt Taibbi via TK News,
The moment a group of people stormed the Capitol building last Wednesday, news companies began the process of sorting and commoditizing information that long ago became standard in American media.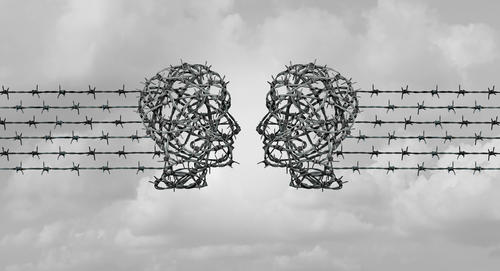 Media firms work backward. They first ask, "How does our target demographic want to understand what's just unfolded?" Then they pick both the words and the facts they want to emphasize.
It's why Fox News uses the term, "Pro-Trump protesters," while New York and The Atlantic use "Insurrectionists." It's why conservative media today is stressing how Apple, Google, and Amazon shut down the "Free Speech" platform Parler over the weekend, while mainstream outlets are emphasizing a new round of potentially armed protests reportedly planned for January 19th or 20th.
What happened last Wednesday was the apotheosis of the Hate Inc. era, when this audience-first model became the primary means of communicating facts to the population. For a hundred reasons dating back to the mid-eighties, from the advent of the Internet to the development of the 24-hour news cycle to the end of the Fairness Doctrine and the Fox-led discovery that news can be sold as character-driven, episodic TV in the manner of soap operas, the concept of a "Just the facts" newscast designed to be consumed by everyone died out.
News companies now clean world events like whalers, using every part of the animal, funneling different facts to different consumers based upon calculations about what will bring back the biggest engagement kick. The Migrant Caravan? Fox slices off comments from a Homeland Security official describing most of the border-crossers as single adults coming for "economic reasons." The New York Times counters by running a story about how the caravan was deployed as a political issue by a Trump White House staring at poor results in midterm elections.
Repeat this info-sifting process a few billion times and this is how we became, as none other than Mitch McConnell put it last week, a country:
Drifting apart into two separate tribes, with a separate set of facts and separate realities, with nothing in common except our hostility towards each other and mistrust for the few national institutions that we all still share.
The flaw in the system is that even the biggest news companies now operate under the assumption that at least half their potential audience isn't listening. This leads to all sorts of problems, and the fact that the easiest way to keep your own demographic is to feed it negative stories about others is only the most obvious. On all sides, we now lean into inflammatory caricatures, because the financial incentives encourage it.
Everyone monetized Trump. The Fox wing surrendered to the Trump phenomenon from the start, abandoning its supposed fealty to "family values" from the Megyn Kelly incident on. Without a thought, Rupert Murdoch sacrificed the paper-thin veneer of pseudo-respectability Fox had always maintained up to a point (that point being the moment advertisers started to bail in horror, as they did with Glenn Beck). He reinvented Fox as a platform for Trump's conspiratorial brand of cartoon populism, rather than let some more-Fox-than-Fox imitator like OAN sell the ads to Trump's voters for four years.
In between its titillating quasi-porn headlines ("Lesbian Prison Gangs Waiting To Get Hands on Lindsay Lohan, Inmate Says" is one from years ago that stuck in my mind), Fox's business model has long been based on scaring the crap out of aging Silent Majority viewers with a parade of anything-but-the-truth explanations for America's decline. It villainized immigrants, Muslims, the new Black Panthers, environmentalists — anyone but ADM, Wal-Mart, Countrywide, JP Morgan Chase, and other sponsors of Fortress America. Donald Trump was one of the people who got hooked on Fox's narrative.
The rival media ecosystem chose cash over truth also. It could have responded to the last election by looking harder at the tensions they didn't see coming in Trump's America, which might have meant a more intense examination of the problems that gave Trump his opening: the jobs that never came back after bankers and retailers decided to move them to unfree labor zones in places like China, the severe debt and addiction crises, the ridiculous contradiction of an expanding international military garrison manned by a population fast losing belief in the mission, etc., etc.
Instead, outlets like CNN and MSNBC took a Fox-like approach, downplaying issues in favor of shoving Trump's agitating personality in the faces of audiences over and over, to the point where many people could no longer think about anything else. To juice ratings, the Trump story — which didn't need the slightest exaggeration to be fantastic — was more or less constantly distorted.
Trump began to be described as a cause of America's problems, rather than a symptom, and his followers, every last one, were demonized right along with him, in caricatures that tickled the urbane audiences of channels like CNN but made conservatives want to reach for something sharp. This technique was borrowed from Fox, which learned in the Bush years that you could boost ratings by selling audiences on the idea that their liberal neighbors were terrorist traitors. Such messaging worked better by far than bashing al-Qaeda, because this enemy was closer, making the hate more real.
Continue: Zerohedge.com