Authored by Katie Spence via The Epoch Times (emphasis ours),
Mayors from New York, Chicago, and other large cities are struggling with resources, blaming Texas, as illegal immigrants move in en masse.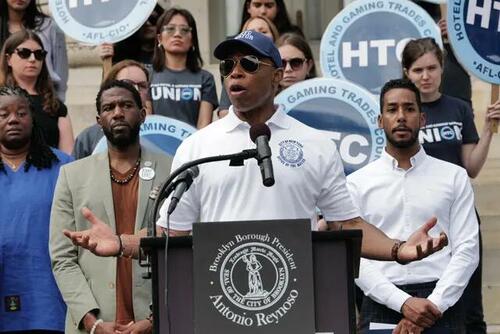 Prior to being elected mayor of New York City in 2021, Eric Adams' campaign posted on Twitter, now known as X, "We should protect our immigrants. Period. Yes, New York City will remain a sanctuary city under an Adams administration."
Less than two years later, now-mayor Adams is suggesting the influx of illegal immigrants will "destroy New York City."
"Let me tell you something, New Yorkers. Never in my life have I had a problem that I did not see an ending to. I don't see an ending to this. … This issue will destroy New York City," Mr. Adams said on Sep. 6, during a town hall meeting on the Upper West Side. "We're getting 10,000 migrants a month."
Texas Gov. Greg Abbott, a Republican, began busing illegal immigrants to several large U.S. cities, known as "sanctuary cities," beginning in April 2022 to alleviate border cities in his state. And although only a fraction of the illegal immigrants arriving in New York City are arriving on Mr. Abbott's buses, Mr. Adams has called the program "morally bankrupt."
A jurisdiction is dubbed a sanctuary because it has enacted policies that shield illegal immigrants, including criminals, from federal immigration authorities and deportation.
The cities Mr. Abbott chose as his busing program recipients are among the 10 "largest sanctuary cities in the United States," according to the Federation for American Immigration Reform (FAIR).
As of Sept. 8, Mr. Abbott's office reported it had bused more than 11,300 illegal immigrants to Washington since April 2022; more than 13,500 to New York City and more than 7,000 to Chicago since August 2022; and more than 2,600 to Philadelphia since November 2022.
This year, Texas started busing illegal immigrants to Denver and Los Angeles. Denver has received around 1,100, and Los Angeles around 480.
Border Patrol agents have apprehended 1,973,092 illegal immigrants along the southwest border in the past 11 months, according to Customs and Border Protection (CBP) data.
More than 1 million of those crossed into Texas.
Continue Reading: zerohedge.com