Children In Vietnam Village Ferried Across River In Plastic Bags Just To Go To School
There is no denying the fact that school days are the best days of our life. They are not only the most memorable days but also the most important days of our lives which help us make our basics of education strong, which eventually help in building our careers.
 However, not everyone is privileged to enjoy school life as most of us did, for some, going to school is the biggest struggle of their life. They know that education is vital if they are to lift themselves from poverty, and will go to great lengths to ensure that they can attend class.
 Recently, a story went viral on social media and left everyone stunned. According to that study, villagers in Huoi Ha Village place their children in giant plastic bags before swimming across the Nam Chim Stream.
Yes, you read that right. During the normal weather conditions, children can cross the stream by a makeshift bamboo bridge, but during the rainy season, conditions get worse and they have to cross the stream by raft or plastic bags.
Flimsy bamboo bridges and rafts, which are used for most of the year in the village, are unsuitable when the river floods during the rainy season. This is when it's time to get creative as "healthy men, fluent in rivers," are given the task of pulling more than 50 school kids across the potentially deadly torrents.
Vang A Po, chairman of Na Sang Commune said:
"We have warned local residents of latent risks to travel through the stream by plastic bags, but the swift-flowing water can also sweep rafts away, so they have to choose this way. Earlier, a local person was injured in a capsized raft here."
According to Vov.Vn, the kids are afraid but determined, watching anxiously as they await their turn. The crossing is extremely dangerous because only a small mistake can be swept away by strong floodwaters.
Mr. Vo A Giong, the head of Huoi Ha village, said: "Now this stream is very dangerous, my relatives usually take the children by raft but now cannot use it. I hope that the state will invest in suspension bridges soon for people to travel more conveniently. "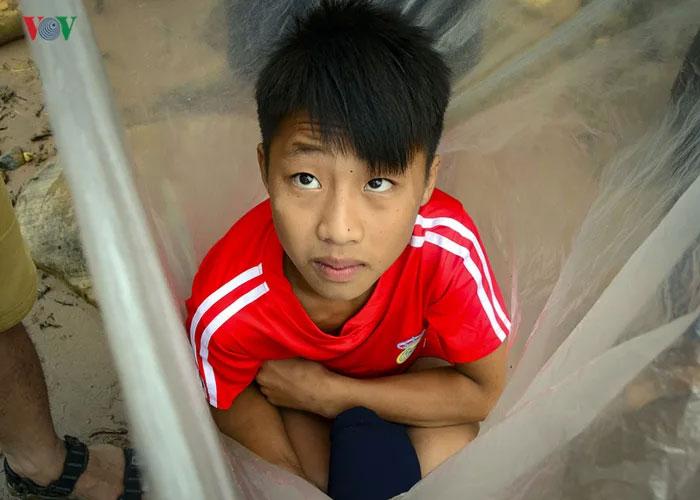 Ms. Nguyen Thi Thuy, Principal of Na Sang secondary school boarding school, agreed that something must be done about the situation. "The flood rains have divided Huoi Ha village," she said. "From our school, there are more than 50 students in Huoi Ha village and so far, the teachers and parents have mobilized the children to attend classes the best they can."
"However, traveling is also difficult. We also hope that in the coming school years, there will be more investment from the state with more modern bridges to bring children to school in these rainy seasons."
Because getting across the river is just the beginning for these dedicated kids. Having survived the crossing, a hike of about 5 hours over 15km of slippery forest roads awaits them.
Thanks to the investigative journalism of the good people at Vov.Vn, it appears that a solution to this problem could be on the horizon, as the government looks to invest in more bridges in the remote region.
Soon after the release of the original article, Minister of Transport Nguyen Van The stated the following:
"After receiving the press agencies' feedback on the situation of students still in the village Huoi Ha having to carry plastic bags to cross Nam Chim flood stream to school due to lack of investment in transport infrastructure, the Ministry of Transport has instructed Vietnam Road Administration to coordinate with local authorities at all levels to check and consider this issue."
A lot of plans for bridges have been proposed but there's no funding for them. It is estimated it would need VND6 billion (USD272,727) to build the bridge, however, getting construction materials along the slippery and narrow 12km road is very difficult.