In response to a housing affordability crisis in the Bay Area, one where wages haven't kept up with soaring home prices in the last decade, voters on Tuesday have likely given the government of the City and County of San Francisco permission to issue a $600 million affordable housing bond, the largest in the city's history, reported KQED News.
Preliminary results from Tuesday night's vote showed 69% of voters supported the measure while 31% opposed it. The bill needs a two-thirds majority to pass.
Proposition A, a project to build 2,800 units of low-income and middle-income housing to clean up the homelessness crisis on the streets of the Bay Area, could become a reality once the measure is passed.
"It's a big bond. It's a lot of money and some people may have been asking themselves is this going to be meaningful to me," said Matthias Mormino, policy analyst for Chinatown Community Development Center, an affordable housing development group in San Francisco.

"But being able to expand these affordable housing projects geographically in other neighborhoods is exciting," said Mormino.
With 383 preincts of 474 reporting … #PropA is now (barely) pushing past the two-thirds requirement to pass with 67.12%

— Erika A. Aguilar (@erikaaaguilar) November 6, 2019
The possible passage of the largest-ever affordable housing bond is in response to the Bay Area's homelessness crisis.
Based on a 2017 point-in-time (PIT) estimate, 28,000 people were homeless across the area. An approximated 70% of these people were living on the streets in Santa Clara, San Francisco, and Alameda Counties.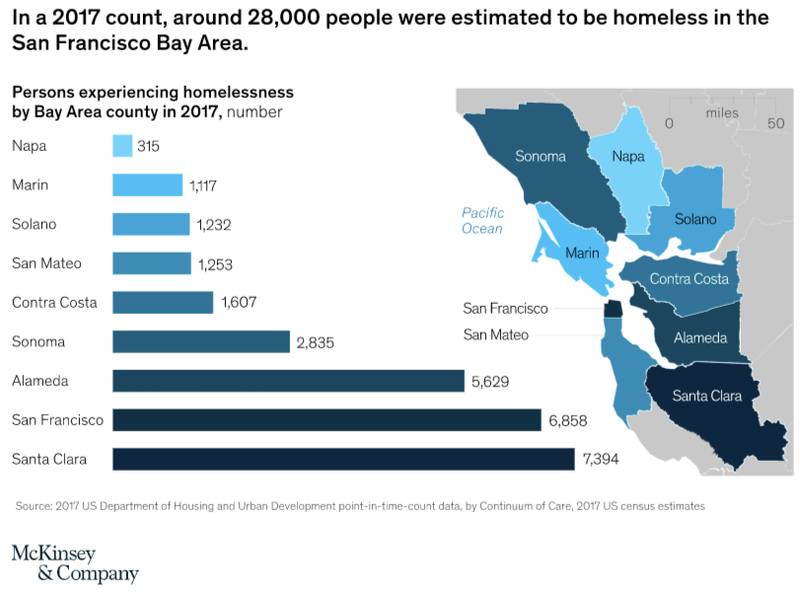 Preliminary PIT estimates show in 2019 a 43% jump in the homeless population in Alameda Counties, 31% in Santa Clara, and 17% in San Francisco from 2017 to 2019.
Total homeless populations in the Bay Area will likely increase through the early 2020s as wealth inequality expands. If the bill is approved, the build time for these new structures could take several years.
Under Proposition A, funds will be allocated to these five areas (list provided by Bloomberg):
$220 million for extremely low- and low-income people
$150 million to repair and rebuild public housing developments
$150 million to acquire and construct housing for seniors
$60 million to acquire and rehabilitate affordable rental housing to prevent the loss of such housing and to assist middle-income city residents and workers to secure permanent housing
$20 million to support affordable housing for educators and employees of the San Francisco Unified School District and City College of San Francisco
Source: Zerohedge.com