Social unrest seems to be cropping up all over the world, from Hong Kong to Bolivia and Lebanon; we offer up a 3 variable model to help explain why. The inputs: urbanization, income inequality, and average age. Every country currently seeing mass protests has some combination of high levels of the first two and lower readings for the last. This admitted crude measure also explains why many developed countries' political environments also seem so fraught at the moment.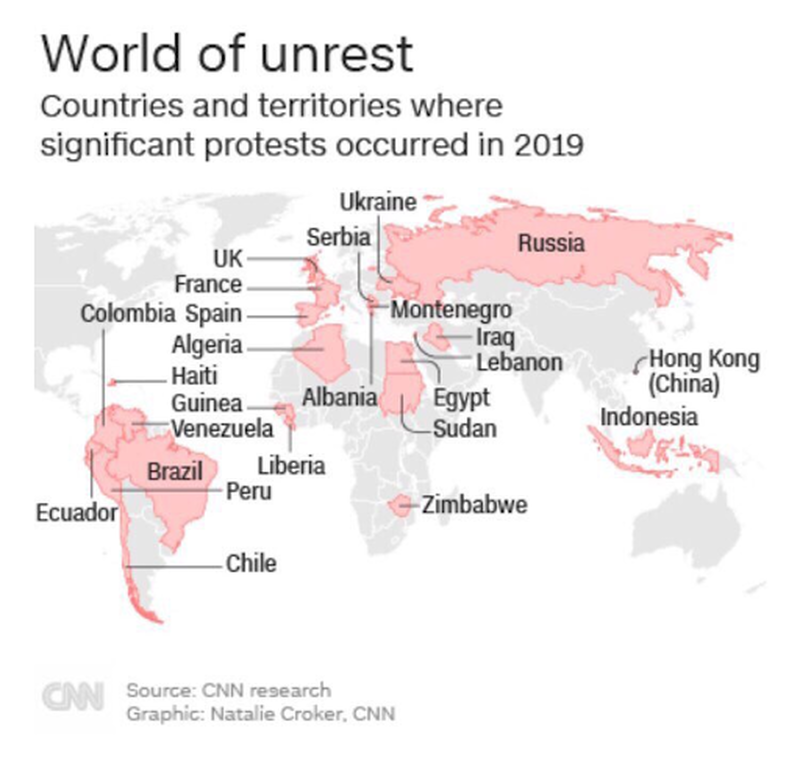 Long time readers may recall I occasionally take strange vacations. Over the last 30 years I have been all over Syria, Lebanon, and most recently Afghanistan in 2013. I once drove around rural Turkey for a week just taking in the sights. It wasn't until we encountered an army checkpoint outside a small village that questions about safety popped up.
Curiosity is the only reason I can offer for these offbeat excursions. It's one thing to read about troubled countries, but once you get there you see the universal truth that travel always illuminates. People are pretty much the same everywhere.
Since there seems to be an outbreak of global protest at the moment, these are the subject of this week's Story Time Thursday. A partial list of the countries in question:
Bolivia
Chile
Ecuador
Haiti
Hong Kong
Lebanon
Much of the news commentary around these events centers on country-specific issues, but I see 3 threads that weave through most or all of them: urbanization, income inequality and average age. Perhaps that's just my own worldview that "people are the same everywhere", but let's see how far it takes us in explaining current events.
Here is the percent of each country that lives in/around cities using World Bank urbanization data:
Bolivia: 69%
Chile: 88%
Ecuador: 64%
Haiti: 55%
Hong Kong: 100%
Lebanon: 89%
All are well above the global urbanization rate of 55%.
And here is the Gini coefficient by country from the CIA World Factbook (the higher the number, the greater the income inequality):
Bolivia: 47.0
Chile: 50.5
Ecuador: 45.9
Haiti: 60.8
Hong Kong: 53.9
Lebanon: 31.8
Most are above the global median Gini coefficient of 37.9, and I can tell you that Beirut is as unequal as any western city so perhaps Lebanon's official number is incorrect.
Finally, here is the average age of each country, also from CIA data:
Bolivia: 24.6 years
Chile: 34.8
Ecuador: 28.1
Haiti: 23.3
Hong Kong: 44.8
Lebanon: 30.5
The majority are at or below the global median age by country of 31.0.
The logic behind why these measures indicate a potential for unrest:
Continue: Zerohedge.com