Players for the Portland Thorns and the North Carolina Courage knelt during the national anthem Saturday when the National Women's Soccer League opened the Challenge Cup tournament in Utah.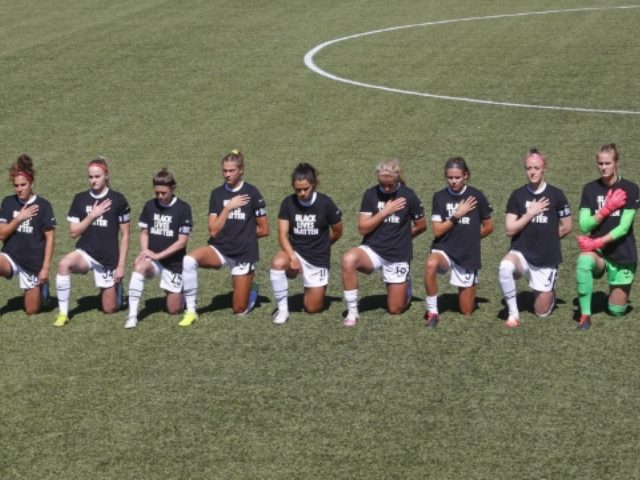 The players and coaches wore Black Lives Matter T-shirts in warmups before the game, which was nationally televised on CBS. The players also knelt during a moment of silence before kickoff.
"We took a knee today to protest racial injustice, police brutality and systemic racism against Black people and people of color in America. We love our country and we have taken this opportunity to hold it to a higher standard. It is our duty to demand that the liberties and freedoms this nation was founded upon are extended to everyone," the Thorns and Courage said in a joint statement released before the game.
The league confirmed the day before that it would play the national anthem before the Challenge Cup games and that it would support the players in whatever they chose to do.
During the late match between the Red Stars and the Washington Spirit a few players remained standing. There was a touching moment when Chicago's Julie Ertz consoled teammate Casey Short, who was overcome by emotion.
The NWSL is the first professional team sport in the United States to return amid the coronavirus outbreak. The monthlong Challenge Cup is being played without fans at Zions Bank Stadium in Herriman, Utah.
"Today, hopefully, it was a powerful statement," Courage midfielder Sam Mewis said after her team defeated the Thorns 2-1. "It was an emotional time and I hope that both teams' message comes through clearly."
Thorns defender Becky Sauerbrunn said: "The (players' association) has been about collaborating with teams on what we can do to maintain and sustain the conversation around racial injustice in this country.
"We made a strong statement and we wanted to kind of maintain that momentum that has been happening and to show official commitment to the cause," she added.
Continue reading: Breitbart.com