mitted by SouthFront,
A previous report by South Front documented the heavy human, social and material costs of the drug wars in Mexico, which have devastated the country since the mid-2000s. In this report some of the major factors in the rapidly shifting environment of the main cartels over the last ten years, and their frequent formations, disintegrations and reconfigurations, are reviewed.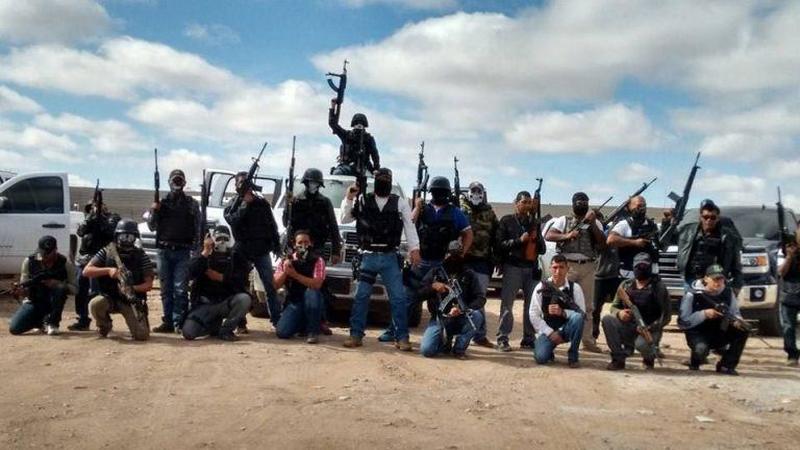 The markets for drugs: key aspects
Cocaine from Colombia supplies most of the U.S. market, and most of that supply now passes through Mexico, with Mexican drug traffickers the primary wholesalers of cocaine to the United States. According to official estimates, coca cultivation and cocaine production in Colombia have risen or remained constant over the last couple of years, with the U.S. government estimating that Colombia produced a record 921 metric tons of pure cocaine in 2017. For 2018, the U.S. government reported that Colombia's coca cultivation dropped slightly to 208,000 hectares and its potential cocaine production declined to an estimated 887 metric tons.
In its 2018 National Drug Threat Assessment (NDTA), the Drug Enforcement Administration (DEA) states that Mexican trafficking organizations also dominate heroin and fentanyl exports from the country. Mexico's heroin traffickers, who traditionally provided black or brown heroin to U.S. cities west of the Mississippi, began in 2012 and 2013 to innovate and changed their opium processing methods to produce white heroin, a purer and more potent product, which they trafficked mainly to the U.S. East Coast and Midwest. DEA seizure data determined in 2017 that 91% of heroin consumed in the United States was sourced to Mexico, and the agency maintains that no other crime groups have a comparable reach to distribute within the United States.
According to the US Office of National Drug Control Policy, Mexico cultivated an estimated 32,000 hectares (ha) of opium poppy in 2016, 44,100 ha in 2017, and 41,800 ha in 2018. The US government estimated that Mexico's potential production of heroin rose to 106 metric tons in 2018 from 26 metric tons in 2013, suggesting Mexican-sourced heroin is likely to remain dominant in the U.S. market.
Illicit imports of fentanyl from Mexico involve Chinese fentanyl or fentanyl precursors mostly sourced from China. In addition, these traffickers adulterate fentanyl imported from China and smuggle it into the United States.
In 2017, Mexico seized 421 metric tons of marijuana and eradicated more than 4,230 hectares of marijuana, according to the State Department. However, it is likely that there will be a significant decline in US demand for Mexican marijuana as more marijuana is grown legally in several states in the United States and Canada, which have either legalized cannabis or made it legal for medical purposes, thus decreasing its value as part of Mexican trafficking organizations' profit portfolio.
Mexican-produced methamphetamine has overtaken US sources of the drug and expanded into non-traditional methamphetamine markets inside the United States. According to the State Department, in 2017 Mexico seized 11.3 metric tons of methamphetamine, and as of August 2018, Mexican authorities had seized 130 metric tons of methamphetamine, including the seizure of some 50 metric tons of the drug in Sinaloa. The purity and potency of methamphetamine has driven up overdose deaths in the United States, according to the 2018 NDTA. Most Mexican trafficking organizations include a portion of the methamphetamine business in their trafficking operations and collectively control the wholesale methamphetamine distribution system inside the United States.
In stark contrast to the vicious life and death battle between the drug cartels, other illegal armed groups and organized crime networks, and the law enforcement officers who must risk their lives for an apparently futile cause, producing armed clashes on a daily basis which have claimed many thousands of lives and inflicted enormous carnage and suffering on the people of Mexico, is the serene and generous treatment of the white collar criminals who have benefitted most from the proceeds of the illicit trade in drugs, mostly from the US and Europe.
Major banks, such as HSBC and Wells Fargo, have repeatedly been caught laundering many billions of dollars from the drug cartels in Mexico and getting nothing more than a token slap on the wrist from the financial regulators in the form of a fine.
The entire US financial system is kept afloat by drug money according to some experts (examined in detail by Michael Ruppert and Catherine Austin Fitts, among many others).
Core features of the cartels' evolution and structures
When President Calderón began his term as president in 2006 there were four major cartels: the Tijuana/Arellano Felix organization (AFO), the Sinaloa Cartel, the Juárez/Vicente Carillo Fuentes Organization (CFO), and the Gulf Cartel. Over the following years there were numerous disputes within and between the cartels and a large number of smaller groups were created, many by former members of the large cartels, others forming as smaller and more localised criminal networks grew and consolidated their activities and organization.
The territorial and functional boundaries of the groups, as well as their leadership and membership, are not always clear cut. Moreover, they are constantly changing in accordance with changes in the relations between key figures in each organization as well as relations between groups, which can also change rapidly depending on the area and activity involved. Hence, some analysts suggest that there could be as many as 20 major organizations if emerging factions and largely autonomous localised groups are included. In an analysis that is useful for penetrating the confusing proliferation of groups and activities, and appears to accurately identify some of the constant factors amidst the violence, misinformation and mayhem:
The Stratfor Global Intelligence group contends that the rival crime networks are best understood in regional groupings and that at least three geographic identities emerged by 2015, which essentially endure. Those umbrella groups are Tamaulipas State, Sinaloa State, and Tierra Caliente regional group. This framework also shows several states and regions of Mexico where the activities of these three regional groups mix, as in the eastern state of Veracruz, which is a mix of elements from the Tierra Caliente and the Tamaulipas umbrella groups. LINK
Geographic zones of influence of the main cartels in Mexico.By the end of Calderon's term the US Drug Enforcement Administration identified seven major criminal organizations: Sinaloa, Los Zetas, Tijuana/AFO, Juárez/CFO, Beltrán Leyva, Gulf, and La Familia Michoacana. Of these groups, the Sinaloa and Gulf cartels in particular remain powerful despite the arrest of some of their leaders and losing some of their influence to other groups. The Cartel Jalisco-Nueva Generacion (CJNG) rose to prominence after 2010, particularly between 2013 and 2015, and is currently deemed by many analysts to be the most dangerous and largest Mexican cartel. CJNG has thrived since the demise of the Knights Templar, which was successfully targeted and largely dismantled by the Mexican authorities following the capture in February 2015 of its leader, Servando "La Tuta" Gomez, a former schoolteacher
Continue reading: Zerohedge.com