Here are the key takeaways from rolling blackouts in Texas:
CenterPoint Energy Warns Power Shortages Could Last "Several Days"
Power Grid Crisis Spreads To Mexico
15 States Have Power Outages Due To Extreme Weather
Gov. Greg Abbott Requests LNG Exporter Freeport To Limit Gas Intake
Gov. Greg Abbott Declares ERCOT Reform
4.423 million Customers In Texas Without Power
Bloomberg's Javier Blas Warns "Blackouts Have Spread Again"
General Motors Idles Arlington Assembly Factory
Oncor Electric Delivery Warns Of "Controlled Outages" Across State
Temperatures In Tyler, Texas -3F On Tuesday Morning
ERCOT Hopes To Restore Power With More Generators Returning To Grid
The Southwest Power Pool Said Blackouts To Continue For The Second Day
Houston Police Chief Art Acevedo Tweets Weather-Related Death
Refinitiv Data Shows Arctic Air To Remain In Texas Until End Of Week
ERCOT Wholesale Electricity Prices Topped $9k Per Megawatt-Hour Overnight
Rolling Blackouts Morph Into Down Celular Networks
Texas Prepares For Second Winter Storm
* * *
Update (1818 ET): CenterPoint Energy, the utility that delivers electricity to Houston-area homes and distributes natural gas, provided an update on the ongoing grid chaos in Texas with some bad news Tuesday evening.
CenterPoint said power shortages could last "several more days" and warned customers "to take precautions for their personal safety."
*HOUSTON POWER OUTAGES COULD LAST SEVERAL MORE DAYS: CENTERPOINT

— zerohedge (@zerohedge) February 16, 2021
Here's the full statement: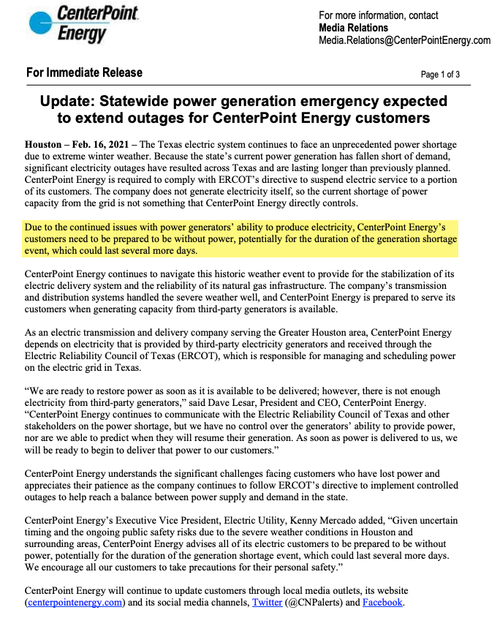 * * *
Update (1650 ET): ERCOT President and CEO Bill Magness provide an update on the power outage situation in Texas.
Watch Live
KUT Austin's Claire McInerny has so far summed up the ERCOT presser as the"worst" ever media briefing she "has ever been a part of."
this is THE WORSE media briefing I have ever been a part of.

the @ERCOT_ISO communications person is reading questions that people are texting her? which doesn't give everyone an opportunity to submit a question. this is INSANITY. local people can't ask questions

— Claire McInerny (@ClaireMcInerny) February 16, 2021
* * *
Update (1415 ET): Rolling blackouts and power outages have hit 15 states on Tuesday as a polar vortex dumps Arctic air into much of the country.
According to PowerOutage.US, 15 states are experiencing rolling blackouts or outages because of extreme weather. Most of the outages are seen in Texas, with over 4 million customers without power (as of this update).
The polar vortex will continue pouring frigid air into much of the country through this week. Temperature anomalies are well below normal, creating major power-grid chaos.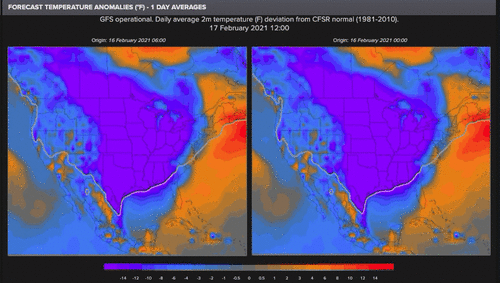 The disruption has spilled over into Mexico, where the US has curbed natural gas exports, resulting in power stations grinding to a halt.
OilPrice.com expands more on the chaos unfolding across Mexico's northern power grid.
Continue Reading: zerohedge.com