Update (2105ET): The Senate has officially advanced the short-term debt limit by a simple majority vote of 50-48, after 11 GOP lawmakers joined Democrats in a vote to invoke cloture, achieving the 60-vote filibuster threshold.
The $480 billion increase will now move to the House, where it could be considered as early as next week. It should be enough to last through at least early December.
* * *
Update (2000ET): The debt ceiling can has been kicked to December.
After Senate Majority Leader Chuck Schumer set up Thursday night vote on a short-term debt ceiling increase that would leave the battle to be rejoined less than two months from now, in the middle of an already packed congressional agenda, moments ago a procedural cloture vote which needed 60 votes – meaning at least 10 Republicans would need to join McConnell in agreeing to concede – took place and as expected, amid all the high theatrical drama, not 10 but 11 Republicans votes were found to join the Democrats in a 61-38 vote.
https://twitter.com/frankthorp/status/1446266258509467653?ref_src=twsrc%5Etfw%7Ctwcamp%5Etweetembed%7Ctwterm%5E1446266258509467653%7Ctwgr%5E%7Ctwcon%5Es1_&ref_url=https%3A%2F%2Fwww.zerohedge.com%2Fpolitical%2Fdefault-averted-now-after-senate-reportedly-reaches-debt-ceiling-deal
The republicans voting Aye were:
Barrasso
Blunt
Capito
Collins
Cornyn
McConnell
Murkowski
Portman
Rounds
Shelby
Thune
So with the vote having passed (Incidentally, Mitt Romey voted no), the next vote to follow tonight will be a vote to raise the debt ceiling by $480 billion where is a simple majority vote is needed, which the Democrats will be able to muster on their own, in the process punting the debt ceiling discussion for some time in mid-December, when as noted earlier, the bond market is already bracing for the next round of high drama with mid-December Bills "kinking" relative to the prior week.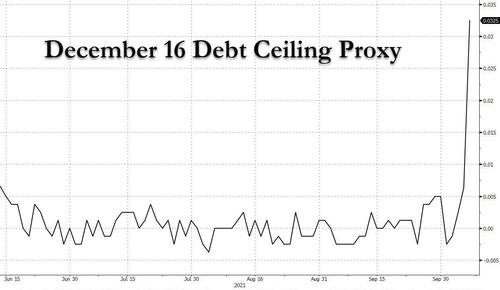 * * *
Update (1440ET): According to The Hill, several Senate Republicans aren't exactly thrilled with the debit limit deal brokered by GOP leader Mitch McConnell (R-KY) and Senate Majority Leader Charles Schumer (D-NY) – arguing that the Republicans gave Democrats and easy way out.
Continue: Zerohedge.com