Update (1315ET): The Washington Post reports that Trump spokesman Steven Cheung said Saturday morning there had been no "notification" of an indictment and said Trump's supporters should attend a rally he is holding next week in Texas for his 2024 reelection.
Susan Necheles, a lawyer for Trump, said his remark about the timing of his arrest was gleaned from media reports on Friday about local and federal law enforcement players expecting to convene early next week to discuss security and logistics related to Trump's expected indictment.
"Since this is a political prosecution, the District Attorney's office has engaged in a practice of leaking everything to the press, rather than communication with President Trump's attorneys as would be done in a normal case," Necheles said in a statement.
* * *
As the banking crisis and the Hunter Biden laptop scandal continues to unfold, the potential indictment of former President Trump on felony falsification charges could be the only headline that really matters next week.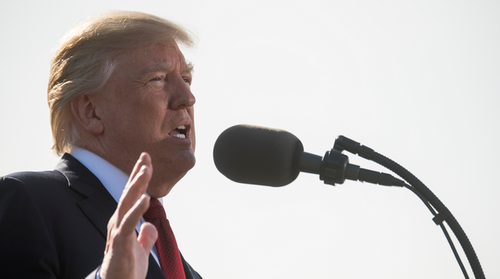 Fox News anchor John Roberts informed viewers on Friday afternoon that the Manhattan District Attorney's Office has requested a "meeting with law enforcement ahead of a potential Trump indictment." He said, "to discuss logistics for some time next week, which would mean that they are anticipating an indictment next week."
"Same sources familiar with the planning said they will go over security preparations in and around the courthouse in lower Manhattan. Secret Service will take the lead in what they will allow or will not allow, the source cautioned, mentioning, for instance, that the decision to handcuff the president, the former president, or not, they will set the tone and will escort him into the courtroom," Roberts continued.
"We are learning that the Manhattan DA office has asked for a meeting with law enforcement ahead of a potential Trump indictment. The meeting is to discuss logistics for some time next week which would mean they are anticipating an indictment next week" pic.twitter.com/IkbM46Naoe

— Acyn (@Acyn) March 17, 2023
Trump's lawyer, Joseph Tacopina, told AP News that if the former president is indicted, "we will follow the normal procedures."
If Trump is charged with felony falsification of business records, he would be forced to surrender to New York authorities and make an appearance in a Manhattan courthouse. The former president allegedly coordinated a transfer of $130,000 to pornstar Stormy Daniels through former attorney Michael Cohen.
"The payments were made to a lawyer, not to Stormy Daniels. The payments were made to Donald Trump's lawyer, which would be considered legal fees," the lawyer told MSNBC earlier this week, adding that Cohen "was his lawyer at the time and advised him that this was the proper way to do this to protect himself and his family from embarrassment. It's as simple as that. That is not a crime."
According to New York Daily News, the Manhattan District Attorney's office held meetings with several law enforcement agencies to discuss security concerns ahead of a possible indictment.
And if Trump is charged next week, he might as well kick off his presidential campaign — would be a hell of a way to start.
If this happens, Trump will be re-elected in a landslide victory

— Elon Musk (@elonmusk) March 18, 2023
Hard to imagine a prosecutor engaging in more egregious election interference than indicting a presidential candidate (and former president) on a charge so vague and petty, no reasonable person would think it's a crime *of any kind*

— Buck Sexton (@BuckSexton) March 18, 2023
It is possible that a PR campaign is underway to divert the attention of the American public from banking failures and the Biden family.
Trump will most likely be in the spotlight next week. On Saturday morning, he wrote this on Truth Social:

What exactly is Trump suggesting his followers do? Those last few words seem to play right into Democrats' narratives.
… and forget about those regional banks and Hunter Biden headlines next week. It might be all about Trump.
Continue Reading: zerohedge.com