Last week, Goldman sparked a buying frenzy in the market (and selling in treasuries) when the bank said it expects the Biden admin would unveil a "modest" $750 billion fiscal stimulus plan, including some $300 billion in "stimmy" checks to Americans.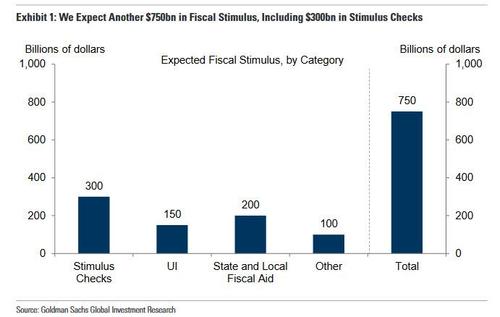 However, as bank after bank tried to upstage Goldman and threw around stimulus estimates as high as $1 trillion or even more, the market barely noticed when late this afternoon, incoming Senate majority leader, Chuck Schumer reportedly "pressed" (in Bloomberg's words) Joe Biden to propose more than $1.3 trillion in spending for his initial round of Covid-19 relief.
According to Bloomberg, "the two have discussed Biden's plans ahead of the president-elect's announcement on his economic-rebuilding proposals… Biden is set to speak at 7:15 p.m. Thursday to outline "his vaccination and economic rescue legislative package," his transition team said in a statement."
But if markets ignored the Schumer report, they sure as hell noticed the CNN report which hit just after 9pmET, which prompted traders to take a double take because apparently Schumer "pressed" Biden so hard to expand the next stimulus round, he literally squashed the president-elect, who is now "expected to unveil a major Covid-19 relief package on Thursday and his advisers have recently told allies in Congress to expect a price tag in the ballpark of $2 trillion," CNN reported citing two people briefed on the deliberations.
The Biden team is taking a "shoot for the moon" approach with the package, one lawmaker in close contact with them told CNN, though they added that the price tag could still change.
The proposal, which is just shy of the Democrats' demand late last year when they sought a $2.2 trillion stimulus, only to agree on a $900 billion enacted last December, "will include sizable direct payments to American families, significant state and local funding – including for coronavirus vaccine distribution and other emergency spending measures – to help those struggling during the pandemic."
It wasn't immediately clear just how big the "stimmy" checks would be, but it is safe to say they will be at least $2,000 and perhaps much more…. which while great news for stocks as much of this money will quickly find its way into Robinhood accounts, is very bad news for bond yields as $2 trillion is a number which just might spark the runaway inflation the Fed has been dreaming of all these years.
Oh well, yields about to go bananas again https://t.co/57kSq3Be32

— zerohedge (@zerohedge) January 14, 2021
Continue: Zerohedge.com