A pro-abortion leftist claims the death of late Supreme Court Justice Ruth Bader Ginsburg motivated her to join the Satanic Temple.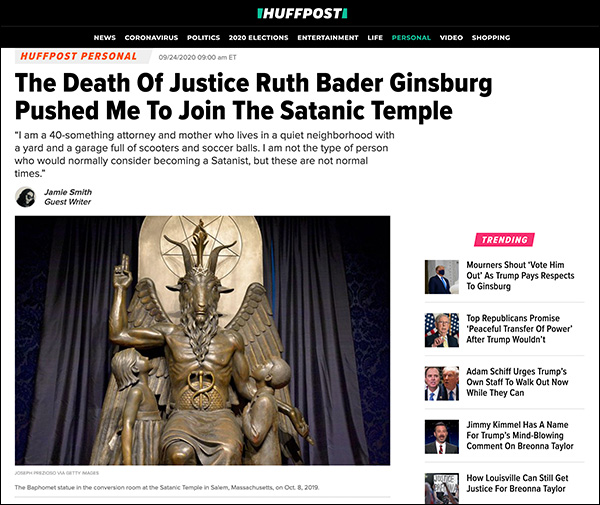 In an op-ed published at Huffington Post, 40-something soccer mom and attorney Jamie Smith explained how her left-leaning atheist beliefs spilled over into full-blown Satanism after she realized RBG's death could mean the end of abortions in America.
When Justice Ginsburg died, I knew immediately that action was needed on a scale we have not seen before. Our democracy has become so fragile that the loss of one of the last guardians of common sense and decency in government less than two months before a pivotal election has put our civil and reproductive rights in danger like never before. And, so, I have turned to Satanism.
Smith naively claims the Satanic Temple differs from the Church of Satan in that the Temple doesn't worship Satan per se, but merely uses him as a symbol.
In the same way that some Unitarians and some Jews do not believe in God, Satanic Temple members do not worship Satan and most are atheists. They are not affiliated in any way with the Church of Satan. Instead, the Satanic Temple uses the devil as a symbol of rebellion.
Smith said after reading through the Temple's system of beliefs, dubbed the "Seven Tenets," she realized her own ideology closely matched theirs.
Reading through the Seven Tenets, I was struck by how closely they aligned with the unwritten code I had used to try to guide my own life for several years. I realized, happily, that these were my people and that I had been a Satanist for several years without even knowing it.
Smith claims she was attracted to the Temple because their legislative battles, especially in the area of abortion, mirror Justice Ginsburg's own perspectives on the issue.
When Justice Ginsburg's death suddenly made combating the threats to reproductive rights and a government free from religious interference more urgent, I knew it was time to join them and support their conceptual and legal battles.
Continue: Infowars.com