Recovery efforts are underway, with large excavators trying to untangle the wreckage, after India's worst train disaster in decades happened in the eastern state of Odisha on Friday.
At least 288 people have been confirmed killed with more than 900 injured, many seriously, in what's being described as a "three-way accident". Two passenger trains collided, with the massive wreck then impacting a nearby idled freight train.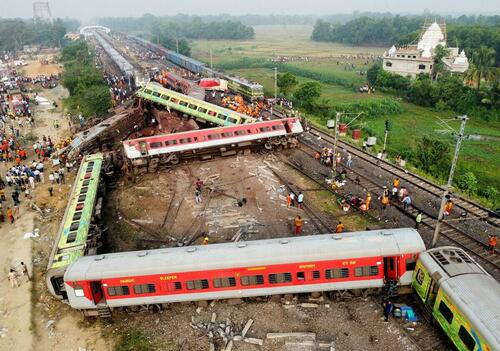 Prime Minister Narendra Modi traveled to the site on Saturday, seeking to console the families of the deceased. "The people we have lost, we will not be able to bring them back. But the government is with their families in their grief," Modi said. "This is a very serious incident for the government. We have given directions for all lines of inquiry, and whoever is found responsible will be given the strongest punishment. They will not be spared."
International correspondents from the site are describing gut-wrenching, horrific scenes. "In humid air filled with the odor of human flesh, relatives went through the harrowing exercise of identifying their loved ones from about 120 dead bodies lined up on the ground after the crash on Friday night," a New York Times report describes.
"Among those searching was Miyah Jan Mullah, who had come from neighboring West Bengal to look for his son, Musavir, who had been on his way to his tailoring job in Chennai," the tragic account continues. "When Mr. Mullah finally found Musavir's body, most of it was burned, but his face was largely intact."
Footage shows a huge area of mangled wreckage stretching dozens of cars…
Amid rising frustration and anger directed at authorities among families searching for answers, a preliminary government reports has said the derailment was possibly the result of a signal error.
A consensus sequence of events and timeline has emerged as follows:
The high-speed passenger train traveling from Kolkata, the Coromandel Express, slammed into a freight train that had been idling at a small-town station, Bahanaga Bazar, around 7 p.m. local time Friday. The passenger train was "going at full speed across the station as it was not supposed to stop" there, the report said, according to The New York Times.

After hitting the freight train, the passenger train, which was carrying 1,257 passengers, derailed. Twenty-one of its coaches bounced off the track, with three more cars landing onto another track.

"Simultaneously" the Yesvantpur-Howrah Express, a passenger train with 1,039 aboard heading in the opposite direction from Bengaluru to Kolkata, was on the track that the three dislocated coaches lay. This second collision knocked the two coaches of the third train off its tracks.
Emergency services with rescue dogs have reportedly halted the search for live victims and have now turned to body recovery and identification. One survivor and eyewitness told Reuters he saw "Families crushed away, limbless bodies and a bloodbath on the tracks."
BREAKING: Drone footage of damage from India train crash, as death toll nears 300.pic.twitter.com/u8XaWi6CSQ

— The Spectator Index (@spectatorindex) June 3, 2023
Given the still rising death toll this could in the end surpass the country's biggest disaster in its history, which occurred in August 1995. The Firozabad Train Collision near New Delhi killed 358 people.