There is light at the end of the covid tunnel, at least according to the Davos billionaire crowd who after two years of missing their favorite World Economic Forum conclave where they get to bash things like wealth inequality and climate change shortly after landing in their private jets, are set to return to the ritzy Swiss ski resort in 2022. The 2021 WEF edition was envisioned for August in Singapore, but a resurgence of the pandemic forced the organization to call off the event.
The in-person event is scheduled for Jan. 17-21 and designed "to address economic, environmental, political and social fault lines exacerbated by the pandemic," the group said on Thursday. It is working with the Swiss government and health experts to establish the appropriate safety measures, however the mere fact that the meeting is already scheduled means that the world's most important decisionmakers have already decided that Covid will not be a "thing" going into 2022.
The @wef Annual Meeting in Davos-Klosters, Switzerland, will take place next year from 17-21 January 2022.

Read more here: https://t.co/qssaPX9lHw#wef22 pic.twitter.com/UGmCw4vSzG

— World Economic Forum (@wef) September 16, 2021
The exclusive Alpine ski resort of Davos, in southeastern Switzerland, had hosted every annual event bar one since the first edition in 1971. It was held in New York in 2002 to show solidarity for the victims of the 9/11 terrorist attack. The annual meeting netted the Swiss economy around CHF80 million ($87 million) in 2020, with businesses and hotels taking in some CHF63 million in revenues, according to Swissinfo.ch.
"The pandemic has brought far-reaching changes. In a world full of uncertainty and tension, personal dialogue is more important than ever. Leaders have an obligation to work together and rebuild trust, increase global cooperation and work towards sustainable, bold solutions," WEF founder Klaus Schwab stated.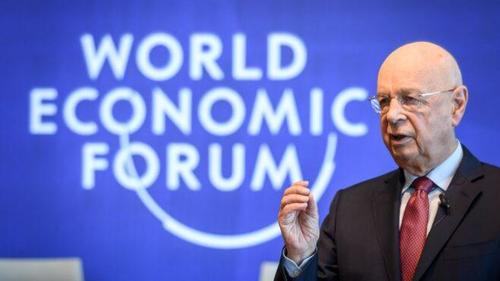 As a reminder, Klaus Schwab is best known for recently officially coining the "Great Reset" term as a description of the current, fourth industrial revolution would "lead to a fusion of our physical, digital and biological identity," which in his book he clarifies is implantable microchips that can read your thoughts.
Schwab has said that his book, 'Shaping the Future of The Fourth Industrial Revolution', was particularly popular in China, South Korea and Japan, with the South Korean military alone purchasing 16,000 copies.
In the book, Schwab explains with excitement how upcoming technology will allow authorities to "intrude into the hitherto private space of our minds, reading our thoughts and influencing our behavior."
Continue: Zerohedge.com